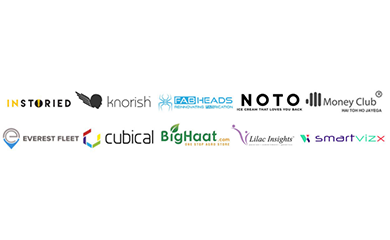 Date: 06 Jan, 2022
We, at Rockstud Capital, would like to wish each and every one of you a very Happy New Year! Hope you have a great 2022 and do stay safe as we are not of the woods as far the pandemic is concerned.
2021 was a challenging year yet a satisfying one because as a Fund it was our most active year as far as doing new investments was concerned. We made 5 new investments in 2021 as compared to 5 that we did in 2019 and 2020 combined. We would like to thank everyone who has been part of this journey including our LPs, co-investors, advisors and of course, the startup founders.
New additions to our portfolio in 2021
Below is a brief synopsis of our 5 new investments in 2021.
· A strong piece of content has the power to make a target audience stop, think and take the desired action and it also helps to create real bond with the customer. But there is a lack of engaging content that can truly influence decision making.
· Instoried is addressing this key problem and has built an AI based tool that helps brands strategize, execute and deliver content using predictive analysis to increase customer engagement. It uses novel, in-house built deep learning algorithms to predict emotional engagement of written content.
· The Company has already raised its Series A round of $8 Mn which was led by US-based Pritt Investment Partners.
· Online learning has been on a significant rise over the past decade and the recent pandemic has contributed hugely in making this more centric in people's lives.
· But as everything that strives towards becoming a trend faces competition after a certain point in time, so is the online learning space which is now full of experts, teachers and trainers who are competing to be their consumer's first choice.
· This is where Knorish, an online course creation platform is helping the teachers and experts who can now create and sell their online courses using powerful sales funnels & automation. It empowers artists, performers, creators, and every other domain expert to share their knowledge with the world.
· Fabheads develops automated manufacturing technologies specific to the carbon fiber part manufacturing sector.
· It is the only player in India to have developed technological expertise in manufacturing carbon fibre parts through 3D printing.
· This is because carbon fiber is a relatively new material and hence not many companies specialise in it. Due to this, there are very few skilled experts in this field across the world.
· Several fascinating studies indicate that permanently reducing your daily caloric intake can have a profound effect on your life. Despite this, a dessert is rarely a place where many people compromise, especially in a country with a rich culinary tradition like India.
· This led to the creation of NOTO, a low-calorie healthy ice cream brand. The brand name is based on the name of a city in Italy. It also constitutes saying "No to" calories.
· The Company sells healthy, low-calorie, protein-rich ice creams in tubs and in popsicles form.
· A chit fund is a financial instrument that combines investment and borrowing. For more than a century, it has been a crucial component of India's financial system.
· MoneyClub is an innovative P2P digitized chit fund mobile application. It differs from traditional chit fund companies in terms of its gamification, higher frequency of pooling, micro-pooling, and easy onboarding through its mobile experience.
· Additionally, the Company relies on its risk underwriting algorithms to keep subscribers' defaults in check.
Existing Portfolio Companies
It has been an action-packed year for our existing portfolio companies. Below are some of the examples.
· It is the largest fleet management service provider in Mumbai with presence now in Bangalore, Delhi and Hyderabad.
· The Company did get impacted due to pandemic as lesser number of people stepped out for travel. However, the Company quickly started the emergency transport service for essential workers so that they could assist as many people as possible.
· Given the impact of the pandemic on the home automation industry, the Company quickly pivoted and started working with large enterprises in helping them build their IoT platforms with a specific focus on software developments.
· This helped them to negate the impact of Covid to a great extent while they continued to work on developing new product features and upgradations in their existing product portfolio.
· BigHaat is one of India's leading digital marketplaces for agricultural inputs. Farmers can access the Company's products and advisory services via digital channels (mobile app/web), a missed call for those without Internet access, and presence on the ground with fleet-on-street.
· The Company has seen 3.5x revenue growth in the past one year with almost 3x growth in the monthly active users on the platform.
· Lilac Insights is a pioneer in the genetics diagnosis in the field of reproductive (prenatal) and cancer treatment, having successfully shaped the genetic screening and diagnostics industry in the country over the last decade.
· It has also got into NICS (Non-Invasive Chromosomal Screening) — a path breaking treatment in IVF (In Vitro Fertilisation). Lilac is one of the only 2 companies to have developed this kind of capability in India.
Rockstud Capital in 2022
As we come to the end of our fund deployment cycle, we plan to start working on our next startup dedicated Fund — Cat I AIF which will pretty much work on similar thesis as the current Fund as far as startup investments is concerned. We look forward to continue to work with Founders and play a small but key role in the growth of the Indian startup ecosystem in 2022.