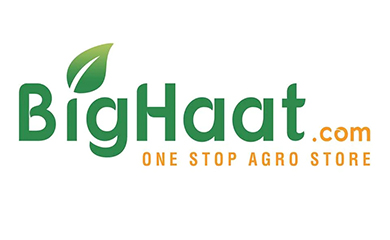 Date: 11 Sep, 2021
One Stop Agro Store
Farmers have always been the backbone of our country, and today the technological advancements are helping them in big ways. With the aim of "Transforming the Future of Farmers", BigHaat has emerged as India's leading digital marketplace for agricultural inputs. Farmers can access the company's products and advisory services via digital channels (mobile app/web), a missed call for those without Internet access, and presence on the ground with fleet-on-street.
About the Company
Sateesh Nukala and Sachin Nandwana founded BigHaat in 2015 to help farmers transform their pre-harvest process through technology. While agriculture economics, strategic leadership, and technology are areas where their expertise lies, they also have experience in building and scaling businesses. Over 3 million farmers have benefited from BigHaat's advisory services and extensive range of high-quality inputs. BigHaat currently has a team of more than 70 employees.
Services and Operations
As an online agriculture platform with inventory and a marketplace model, it provides farmers access to advisory and farm inputs such as seeds, fertilizers, chemicals, instruments, and accessories.
In addition to creating an online farm community, the platform has also enabled farmers to share best practices in crop production.
An omnichannel (online and offline) presence is available to users, including digital options (mobile app/web), missed calls for those without internet access, and fleet-on-street.
Over the next two years, BigHaat plans to work with over 10 million farmers in India.
The Company also offers business intelligence and data analytics to input manufacturers to help them determine market trends and identify new growth opportunities.
Why BigHaat?
Technology can play a huge role in the Agri-input space, which is unorganized and big enough for several players to scale.
The two founders also come from farming family backgrounds, so they are well aware of the challenges faced by farmers regarding price instability, quality assurance, and supply security.
They intend to solve these problems through its 'factory-to-farm' model, which offers access to a wide range of 'quality' inputs and timely delivery at a 'competitive price'.
Currently, the platform is available in English and Hindi; however, the advisory service is available in English, Telugu, Hindi, and Kannada.
The Company has a pan-India presence with offices across South (TN, Telangana), West (Maharashtra, Gujarat, MP), and North (UP, Bihar).
Industry Landscape
India has 160 million hectares of arable land, the second largest in the world after the USA.
15 out of 20 agro-climatic regions and 46 out of 60 soil types are found in India, making it the world's most complex and diversified agriculture industry.
The Agri-inputs market is an $800 billion cumulative opportunity for over 145 million farmers in the next 10 years.
What We Think
Both the co-founders come from agricultural family backgrounds, and they are able to combine this with their experience of working in tech and engineering roles in the USA to build a scalable agri-tech platform addressing the needs of the farmers.
With its unique omnichannel platform, BigHaat has helped farmers gain access to its products and advisory services in vernacular languages, unlike some of its competitors.
The Company raised $2 Mn funding in their last round which will help it scale at a faster rate vis-à-vis the competition.
Conclusion
With a specialized business model and strong foundation, BigHaat has shown exceptional growth. Data-driven business intelligence is transforming the distribution, marketing, and operations of Agri Input manufacturers. As part of their data strategy, it is possible for stakeholders of the Agri value chain to come together and build a comprehensive ecosystem to benefit the farming community and advance sustainable agriculture.
The above report has been prepared by Rockstud Capital LLP ("Investment Manager") for informational purposes only and is subject to change without notice. The delivery of the report does not imply that the information contained herein is correct as of any time subsequent to the date specified in the contents of the Information. The financials in the above report are intentionally not mentioned due to confidentiality reasons.
To know more about Rockstud Capital, visit www.rockstudcap.com